March 23, 2013
IQ Audio Corporation introduces the M300 Power Amplifier. The M300 is the first in a new line of switching, class-D power amplifiers from IQ.
The IQ M300 mono block amplifier – a 300-watt tour de force – establishes a new benchmark for Class D amplifiers.
These are truly serious amplifiers for serious listeners. The M300 power amplifier has delicate detailing, excellent micro-dynamics, all from a quite black background, with powerful punch and slam, and dimensional imagery.
The M300 features a beautiful seamless extrusion enclosure, with machined aluminum top and bottom panels. The extrusion mounting holes are created using CNC machines. Overall, the M300 has a stunning aluminum enclosure with superb fit and finish.
The M300 measures a mere 3″ H x 7.7″ W x 7.7″ D and weighs only 7 pounds, certainly playing up the strengths for which switching power amplifiers are known.
The M300 is small, beautiful, and powerful!
The M300 mono block is rated at an impressive 150 Watts RMS continuous into 8 Ohms, and 300-watts continuous into 4 ohms. This is FTC continuous sine wave power.
IQ's FTC rating methodology is an attempt to bring a broader understanding and engineering honesty to the power rating issue. The M300 is capable of generating truly phenomenal power levels into virtually any speaker load.
The M300 amplifier employs a state-of-the art micro-controlled input section that has remarkably low distortion. Both the balanced and unbalance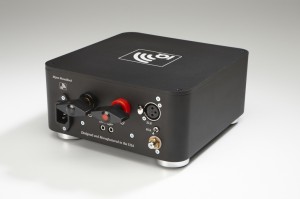 d inputs yield exceptional results.
The M300 amplifier uses an innovative and state of the art switch-mode power supply to ensure the most musical amplification currently available. The IQ power supply uses the latest high speed switching technologies that results in extremely fast response, with very low conducted and radiated noise. The result is a powerful, dynamic, and musical power supply.
With the launch of the new M300 Power Amplifier, the IQ R&D team has succeeded in solving the technical hurdles of switching power amplifiers and bringing a breathtaking, paradigm-shifting product to market.
With all the above technology integrated together in perfect harmony, the IQ M300 amplifiers deliver on our goal of pristine clarity, natural tonality, expansive and precise imaging, with powerful and accurate bass with rhythm and slam.
The IQ M300 Power Amplifier is now available direct from IQ at $1,495 per pair.
For more information about the M300, please visit: http://iqaudiocorp.com/
October 21, 2009
Designed To Integrate Perfectly with Blue Sky's New SUB 212 — To Provide A Stunningly Accurate & Engaging Full-Range Monitoring System
World-renowned for their accurate, full-range sound, Blue Sky is pleased to introduce its newest critical listening component to its full line of monitoring solutions: the SAT 265 High Output Near-Field Active Studio monitor. Blue Sky's fresh approach to studio monitor design delivers the highest possible ratio of performance to cost, in turn providing the highest value to our customers. US MSRP: $1500.00 (USD)
By Diane Gershuny:
Blue Sky's SAT 265 is a 2-way, tri-amplified, 300-Watt, High Output Near-Field Monitor which features two 6.5" high excursion hemispherical woofers and a 1" dual ring radiator tweeter with integral waveguide, for superior off-axis response. Powered by a dedicated low distortion 100-Watt amplifier for each of the 6.5" woofers, it also features a low distortion 100-Watt amplifier for the tweeter. The SAT 265 effortlessly delivers clean and accurate sound with a frequency response of 80Hz to 30kHz +/-3.0dB (200Hz to 15kHz +/-1.5dB) for full compatibility with Blue Sky's SUB 15 Universal, SUB 212, SUB 12 and BMC (Bass Management Controller). The rear panel also has controls for "full space" (placement in a room) or "half space" (mounted in a baffle wall) operation, along with HF level trims, as well as controls for variable gain settings.
October 21, 2009
From 'Slumdog Millionaire' to Big Budget 'Blue'
By Diane Gershuny
Up until about a dozen years ago, the idea and implementation of production sound recording was virtually non-existent in India. As a film school graduate from India's Film School Institute in 1985—and with inspiration from Spielberg to Lucas—Resul Pookutty aspired to change all that. Riding the wave of the massive success from his work on 2008's international indie blockbuster, 'Slumdog Millionaire' (and subsequent sound design awards including an Oscar, BAFTA, MPSE, CAS, and others), the mixer/sound designer and colleague Akhilesh Acharya launched Canaries Post Sound outside of Mumbai in late '08. The studio's main sound design room is built around a Blue Sky 5.1 Sky System One.
March 12, 2009
The SAT 8 and SUB 212's Sealed-Box Design, Combined With Sophisticated Bass Management Electronics, Provides A Seamless Transition Between SAT & SUB. The End Result Is A Stunningly Accurate Full-Range Monitoring System.
By Diane Gershuny:
World-renowned for their accurate, full-range sound, Blue Sky is pleased to introduce two new critical listening components to its full line of monitoring solutions: SUB 212 400-Watt Push-Pull Active Subwoofer and the SAT 8 300-Watt, Compact Mid-Field Monitor. The SUB 212 is designed to be an integral part of the monitoring system, enabling a studio monitor, such as the SAT 8, to be positioned for the best imaging, and the SUB to be positioned for the best bass response. Relieving the studio monitor of the requirement to reproduce the low frequencies means that the uncompromising sealed-box design can combine with sophisticated bass management electronics to provide a seamless transition between the SAT and SUB. When combined, the SAT 8 and SUB 212 provide a stunningly accurate and engaging, full-range monitoring system.
"Our customers were asking for a powerful system that was similar to the Sat 12 and Sub 15, but in a smaller package," said Blue Sky Vice President Chris Fichera. "The Sat 8 and Sub 212 will address those applications."
September 24, 2008
Blue Sky International announced today that its Big Blue Monitoring System, which is comprised of the SAT 12 and SUB 15 Universal (pictured), is now approved for use in THX pm3® (professional multi-channel mixing and monitoring) Certified Studios, which are among the premiere mixing and mastering facilities in the world.
Read the complete press release by following this link to the Blue Sky website. »
Blue Sky International was founded, and is jointly owned by Group One Ltd. and Audio Design Labs Inc. The company was established by combining the marketing, sales and distribution expertise of Group One Ltd. with the knowledge and experience of Audio Design Lab's award-winning design team. more »
July 4, 2008
When talking to people about 5.1 audio, one of the more common problems in helping people understand certain concepts, is the confusion involving some of the basic terminology.
What is the .1 / LFE Channel and why does it exist?
The .1 or LFE is a channel which is exclusively used for frequencies below 120Hz (below 80Hz for DTS). It is therefore a bandwidth limited channel, but it is not the same as the subwoofer, which is the speaker that typically reproduces the LFE channel in a home audio or studio monitoring system (more information is provided below). The purpose of this channel is to provide an additional 10dB of electrical headroom, for low frequencies, above the main channels. This is done by calibrating the acoustic playback level, so that it has 10dB of in-band gain above the other channels (fronts and surrounds).
June 5, 2008
As an avid audio / video enthusiast, my friends and family will often contact me when they have a question about their home AV system.  One of the most common questions I get, is regarding the relative inconsistency in audio level between different TV programs, channels and in particular commercials. The complaint about TV commercials has been around for a long time, but with the advent of HDTV and digital broadcast television, new technologies are available to the content creators and broadcasters which are designed to mitigate the severity of these differences in level.  Unfortunately, even with HDTV and digital broadcast television, the problem hasn't improved much and in some cases it seems to have gotten worse.
The reasons for the lack of improvement are complex and often vary depending on the content creator, broadcast network and even differences between national and local broadcast networks. To help understand what is causing these 'issues', it is probably best to first review one of the key technologies that is available today, to help mitigate this problem.  Dolby Digital, which is currently used as the preferred audio delivery format for many HDTV broadcasts, includes several unique features which are designed to help improve consistency between various broadcasts and other audio sources.
May 17, 2008
This article was also published in the October 2006 edition of Resolution Magazine. You can download a PDF copy by following this link to the Blue Sky website (143KB Adobe Acrobat PDF).
Intro
About 8 years ago, my business partners at Blue Sky and I had a number of meetings to discuss designing a new series of studio monitors. After much debate, we decided there was little point in building another set of "me too" monitors, in the typical 5", 6" and 8" 2-way configurations. What we felt was needed was a different approach that overcame some of the limitations of current monitors and provided tangible real world benefits to the recording engineer.
So where did we begin?
When creating the requirements for Blue Sky's nearfield and mid-field studio monitors, we decided to start at the end of the chain and work backwards to the beginning.
May 9, 2008
The Instructions:
Instructions for electro-acoustic calibration of a professional stereo, 2.1 and 5.1 studio monitoring systems (speakers) using a SPL meter and ADL's test files.  If you are interested in calibrating a home theater system, we recommend using the test signals and procedures included with your home theater receiver.
Before starting, download the ADLTestFiles.zip (15 MB). To download the zip file, "Right Click" and select "Save Target As" and the file will begin downloading.
Once downloaded, either burn the test files on to a CD or import them directly into your DAW and follow the instructions below.